Tom Quick Inn Sanitation Protocols
Milford Hospitality Group is committed to doing its part to slow the spread of COVID-19. This includes spacing tables six feet apart, disinfecting surfaces in between uses, requiring that guests wear masks when not seated at their tables, and requiring staff to wear masks at all times. Furthermore, we ask that guests maintain a six-foot distance from patrons not in their parties. Your cooperation allows all guests to feel safe while visiting us. Thank you in advance!
In Pike County, there has been less community transmission on a per capita basis in Pike County than in any of the adjacent or nearby counties. We want to keep it that way, which is why our efforts are ongoing. For any questions or comments please email us.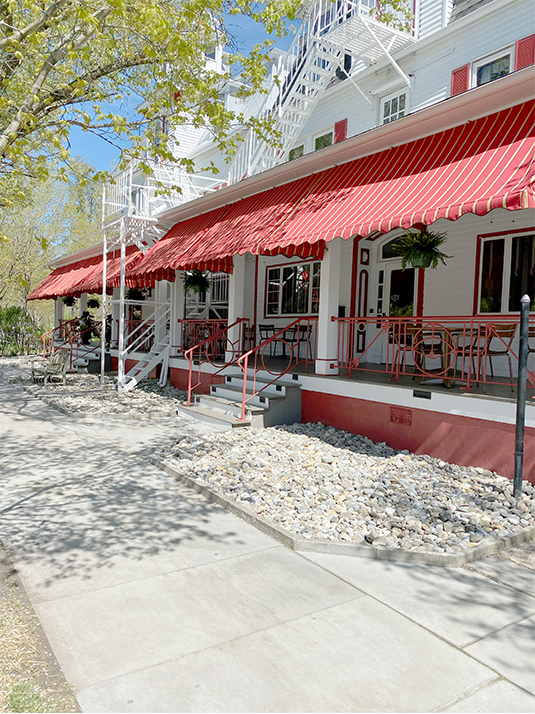 Service at the
Tom Quick Inn
After a period of closure, we've reopened the hotel and our food and beverage service, serving in our well-ventilated dining rooms and have taken a number of measures to protect our staff and guests in the hotel's public spaces, guest rooms and restaurant.
These include:
Public Spaces
Required mask-wearing and social distancing.
Providing masks and/or gloves to guests who need them.
Required social distancing, including spacing of tables and limited seating in dining areas.
Hand sanitizer available at all entrances to the building.
Regular cleaning of touched surfaces in our public areas,
Staff and guests are encouraged to utilize a softer "indoor voice" in public spaces of the hotel
Erring on the side of caution; if a staff member has a slight fever, cough, or sniffle, we require they stay or go home.
Free Covid testing for staff members who want to get tested.
Guest Rooms
Windows in the rooms are opened whenever they are cleaned.
Daily room refreshes only upon request, with a required three-hour vacancy period for ventilation.
When feasible and upon request, we will try to accommodate requests from guests to check into a room that was vacant the night previously.